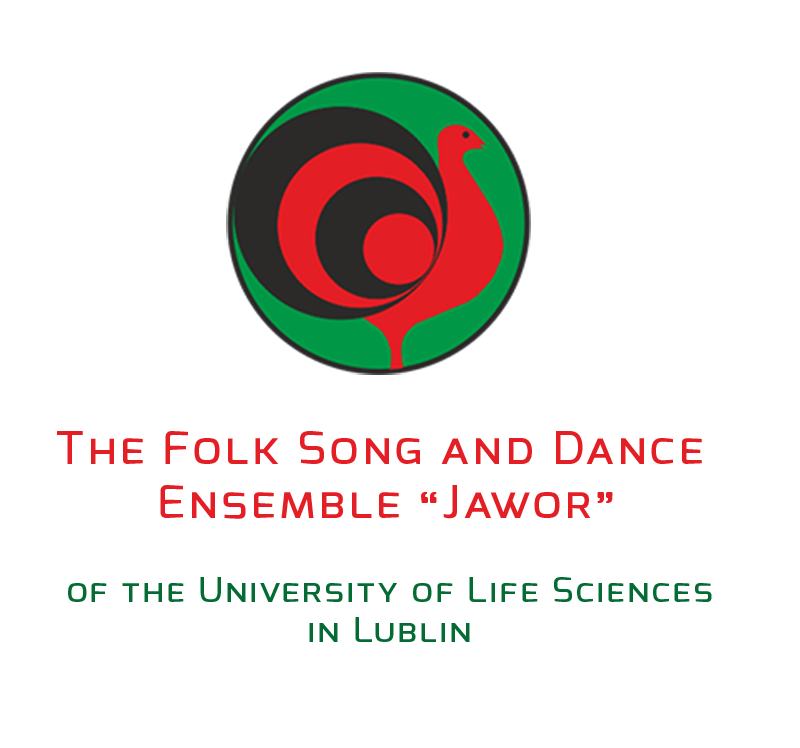 ---
HISTORY
1960 is accepted by Jawor as its first year of artistic activity. Jawor is a folk ensemble of Agriculture Academy in Lublin City ( Poland ). However there are some indications that in February 1956 a folk dance ensemble of Agriculture High School (former Agriculture Academy) had performances : some documents and accounts of people who used to dance in the ensemble. Ensemble's essential were few students of Agriculture High School who danced before in the other folk ensemble of other university in Lublin (UMCS). When Agriculture High School originated these students moved to the new high school. Unfortunately the new ensemble wasn't well organized, also some instructors ( MrJ.Ignaczak, Mr S.Leszczynski, Mrs J.Wirska ) were changed quite frequently. Such circumstances could not guarantee continuous and efficient work. In autumn of 1959 another person took over artistic management of the ensemble. He was the well-known choreographer in Lublin : Joseph Dzik. Since then ensemble has got a new history and its activity is uninterrupted. Mr Dzik was a wonderful self-taught person from a village of Lublin region. He loved folk culture very much and he was expert of it as well. The gentleman learned perfectly choreography and had great ability of composing shows. He knew how to share his fillings with students' youth. We should mention Mr Boguslaw Tomasik. He had been playing for many years on accordion and then he was a main musician of a folk band.


Mr Szot was also the very import_ant person for the ensemble. He set up a successful choir of Agriculture High School. The choir moved there from the other high school in Lublin (UMCS). Mr Szot engaged dancing group from Agriculture High School for artistic program of choir ( since 1956 ). By this activity he created a demand for such ensemble which would work in the same high school. Mr Joseph Dzik - a good frind of Mr Szot was the right person to managing this ensemble. They both created an artistic program - one took care of dancing, the other of vocal & music. In 1973 Mr Szot chosen scientific career so he had to give up his artistic passion.

It was very hard at the beginning. Ensemble's members simultaneously had to learn new repertoire and change some organization forms. Mr Edward Kubit was the first president of the ensemble. One have to mention here about Mr Joseph Zagor- student of Zootechnics Faculty who danced many years in ensemble, was engaged in student's life, one of the first ensemble's presidents.

In 1964 ensemble together with the choir of Agriculture High School went to Hungary for its first abroad tour. In the program they performed "Lublin Wedding Suite", Polish national and regional dances, also national dances of Hungary, Czech, Ukraine, Moldavia.

The great success came in 1965, when came in first place on Polish Student's Culture Festival in Warsaw. The 35-minute performance took place on the stage of Warsaw Opera in front of TV cameras. On the great anniversary of 1,000 Polish state, they gave 2 concerts representing amateur folk ensembles. On the same year they're nominated to an International Three Continent Festival in Istanbul. It was the first tour of prestige which was so far. Besides Istanbul ensemble performed also in Ankara, Izmir & Adampol.

Domestic and abroad successes obliged for further activity. In 1967 there was a very import_ant competition of student's choirs. That's why the choir members couldn't be engaged with ensemble any more. At that time Mr Szot decided to train vocally dancers. The job was very hard and painful. They went for couple learning rehearsals (to Gardzienice & to Uhrusk) after which its own repertoire was good enough to perform in Poland & abroad. From that time it was an unaided folk ensemble.

Another problem was lack of costumes which were borrowed from other ensembles seated in Lublin. First own costumes were sewed by ensemble members under supervision of indefatigable Mr Dzik. Thank this group of madcaps ensemble started to stand firm and was held in esteem in Lublin. At that time a quite distinguished was one beginner-guy : Johnny Pogonowski, who entered into close contact with ensemble for many years and was meritorious for it. Also Mr Tadeusz Wierzbicki - excellent organizer, many years' dancer, president of management board, then ensemble's manager. Thank him ensemble was enriched with new costumes and introduced on international stages.

In 1969 ensemble got a second choreographer - Mrs Sophie Torun. She was also one of these peoplewho brought more comprehensive and polished up repertoire. Until 1984 Mrs Torun worked in ensemble polishing choreography ideas of Mr Dzik and taking care for dance figures & steps.

For first ensemble's custodians academy appointed following professors: Mr Leszek Malicki, Mr Richard Turski, Mr Janusz Welento, Mr Tadeusz Kesik. Ensemble was one of the best in student's artistic movement. It performed successfully inland and abroad. In 1967 Mr Christopher Kramek started work in ensemble as an accompanist. Then he became a leader of musician band. Since 1980 he's a music manager.

Mr Kramek is the author of most musical elaborations. In 1971 was employed as an instructor Mr Pogonowski, leading dancer and vocalist who was mentioned before. Except several years break, he is working up to now as first choreographer.
Artistic program consists of his many choreographic arrangements. In 1978 ensemble enlarged number of its members and second dancing group was created of younger members. Mr Dzik died in 1979. From that year all responsibility fell on Mrs Torun, Mr Pogonowski, Mr Kramek & Mr Tymczyna. In ensemble Mr Leszek Tymczyna was a dancer, manager ( 1971-80 ) and board president. Academy's authority made the President function in 1978. Mr Ignacy Wachowiak was a very helpful person for ensemble's personnel at least for a short time ( 1 year ).

In 1976 Mr Miroslaw Stojak entered into close contact with ensemble. He cooperated with the Ensemble for 37 years (including a few years' break). He had started his work as an amateur accompanist. For 32 years he was employed as an instructor. He performed with the folk group, and was its leader during the concerts taking place in Poland and abroad. He had been the music manager of the Ensemble for 4 years. Mrs Eve Wierzbicka was first a dancer and soloist. Between 1982-1990 she was an instructor & first choreographer. 1988-90 she worked as acting manager.

Ensemble was still enlarging so had to be its personnel as well. It was typical that following instructors were former dancers, which guaranteed same ensemble's character. In 1983 Mr Adam Grochecki started work as a dance instructor. One year later two accompanists were employed : Mr John Kozlowski & Mr Zbigniew Smagowski. If necessary, they led the band during concerts. A weak point was lack of vocal instructor. Unforgettable Mr Wladyslaw Byszewski induced youth to sing again but ensemble needed vocal instructor for permanent. In 1984 another hothead of the ensemble - Mr John Kielb took upon him this responsibility. From 1992 till now Mrs Janina Gaska took over the duties. Since 1990 Mr Kazimierz Kozak - former dancer is an instructor-choreographer. On the same position between 1993-2004 worked another alumnus : Mr Zbigniew Wojcik and after him - Mrs Marzena Dzwierzynska.

Within the compass of many years, even for short time, the personnel consisted of : Mrs Eve Skorka, Mr Zbigniew Romanowicz, Mrs Jadwiga Sawa, Mrs Dorothy Banaszkiewicz, Mrs Hanna Aleksandrowicz. Also music and vocal instructors : Mr Henry Gaska, Mr Kazimierz Liszcz, Mr Janusz Lawgmin, Mr Henry Lembowicz and others. In 1984 a new organization originated on Agriculture Academy : Folklore and Village Culture Centre. The organization is created by Choir & Folk Ensemble, newly set up but short active Women's Choir managed by John Kielb and Folk Stage Theatre conducted by Mr Zbigniew Sztejman.

Above mentioned centre was initiated by Mr Wierzbicki who convinced prorector for student affairs of his idea. Mr Grochecki in 1990 was appointed to manager of the Centre, so he was ensemble's manageras well. In 1993 Mr Romanowicz took over his post - former dancer and board president. In 1990 he initiated the Old Boys group of the ensemble. One year later he made first move for Association of the Friends of Folk Ensemble. From 1993 ensemble is a member of Polish section of CIOFF.