The successes of the indoor rower team at the Polish Academic Championships
Polish Academic Indoor Rower Championships held in Poznań on 31 March and 1 April 2017 will be remembered as the greatest successes of our Academic Sports Association. Both our male and female teams of ULS Lublin came first in the team standings in the group of the universities of social and environmental sciences and finished in high places in individual and general classifications.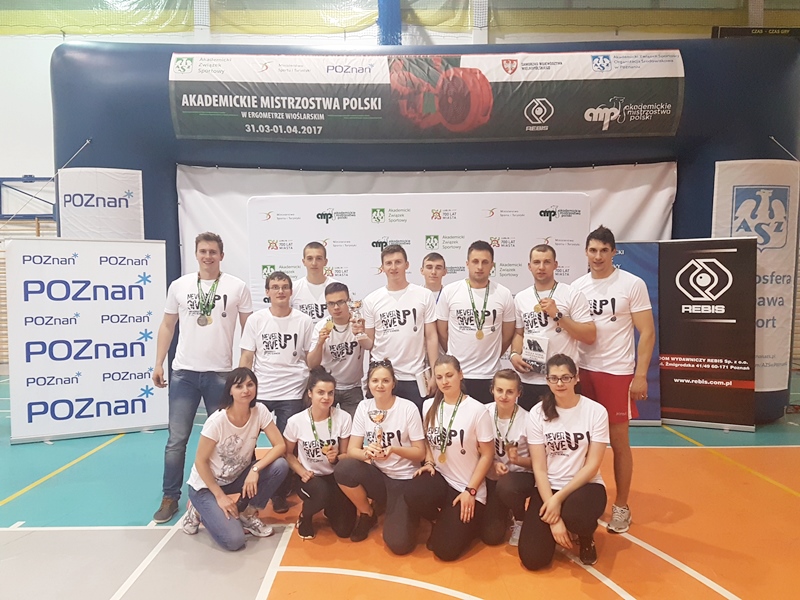 General Individual Classification
– men
1 Michał Szpakowski (WSG Bydgoszcz)
2 Kamil Tchórzewski (UP Lublin)
3 Jan Kucera (AMo Szczecin)
4 Karol Leszczyński (UMK Toruń)

Team Classifications: Social and Environmental Sciences Universities

Women
1 Uniwersytet Przyrodniczy w Lublinie
2 Szkoła Główna Gospodarstwa Wiejskiego w Warszawie
3 Akademia Morska w Szczecinie
Men
1 Uniwersytet Przyrodniczy w Lublinie
2 Akademia Morska w Szczecinie
3 Wojskowa Akademia Techniczna w Warszawie
Congratulations!

For more information go to: http://azs.up.lublin.pl/?page=news&action=show&id=27
Practices of the indoor rower team are run by our university PE instructors in the aerobics hall of the Sports and Recreation Centre, Głęboka 31, on Tuesdays (18:30-20:00) and Thursdays (17:00-18:30). We invite everyone who would like to join our master team!